What You Need To Know,
Exactly When You Need To Know It
When it comes to safety in your facility, knowing how your equipment is performing is critical. Elevate4.0 retrieves information vital to equipment operation and stores it in the cloud where you and your personnel can monitor it from office PCs or mobile devices on the go. When an alarm occurs, know what you need to with text and email alerts. This flexible software allows you to start small, connect just one piece of equipment, or expand your view to include all equipment in your facility, or even facilities region-wide.
Elevate4.0 Features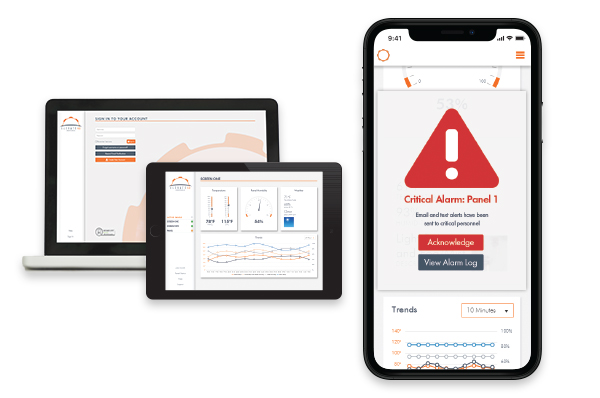 Elevate4.0 Web Application
Monitor your equipment from any connected device
Connect and monitor any number of equipment, regardless of distance
View data in real time, down to the minute, or view trends over several hours or days
Track local weather conditions, panel temps, humidity, or more advanced parameters like operational characteristics of facility equipment
Have uncommon equipment or specific data you'd like to track? We'll customize a monitoring view at your request
Configure alarms to send alerts to key personnel as text or email
Secure & Easy Payment
Elevate4.0 utilizes the heighest level of encryption available. Any credit card or bank account information saved for future use is protected by our Payment Card Industry Data Security Standards (PCI-DSS) complient payment practices, meaning sensitive data never touches our server.

Contact us if you would like to find out more about Elevate4.0 and our security standards.
Payments are monthly-subscription based. Connect your entire facility for free during a one-month free trial
Subscribe or unsubscribe as you see fit. Adding and removing equipment is hassle free
Save payment information, and set up automatic payments to keep your equipment connected to the cloud
Receive special pricing for subscribing large quantities of equipment